What is Te Ara Mauwhare – Pathways to Home Ownership about?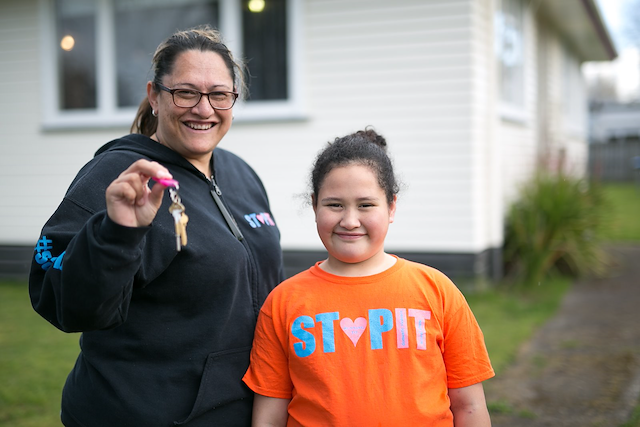 Te Ara Mauwhare: Pathways to Home Ownership is an initiative to identify, trial, and evaluate innovative approaches to assist low to median income whānau to move towards home ownership.
Budget 2017 provided $9 million that is committed over the four years from 2017 until 2021 to support a range of trials of using different progressive home ownership models. 
The Sorted Kāinga Ora programme was developed under Te Ara Mauwhare to support whānau to build their financial capability to achieve their housing aspirations, including home ownership.
The five trials use a range of bespoke rent-to-own, shared equity and shared ownership models:
He Korowai Trust in Kaitaia worked with students from He Korowai trades training institute to refurbish surplus Kāinga Ora houses, providing new homes on the Whare Ora papakāinga for eight whānau through a long-term rent-to-own agreement.
Port Nicholson Block Settlement Trust is developing 15 homes at Te Puna Wai papakāinga in Wainuiomata, with whānau entering into a shared equity arrangement using the New Zealand Housing Foundation model.
Te Tihi o Ruahine Whānau Ora Alliance is developing ten new homes on two small urban papakāinga on surplus Kāinga Ora land in Papaoia. Five whānau who currently live in public housing have been selected to move onto the first papakāinga under a bespoke rent-to-own agreement. The Ministry of Housing and Urban Development is co-funding this trial.
The Chatham Islands Housing Partnership Trust, which is developing five homes as the first stage of the Sandstones papakāinga on Wharekauri. These will be sold to whānau on a very long-term rent-to-own agreement, recognising that bank finance is not readily available on the Chatham Islands.
Te Taiwhenua o Heretaunga was selected to develop a shared equity whānau cooperative model for a co-housing pod within its Waingākau affordable housing development in Taradale. The trial was delayed while the rōpū secured development finance for Waingākau as a whole and is now expected to progress in 2020/21.
A potential shared equity trial with Te Atiawa and Taranaki Iwi through the Ka Uruora Housing Trust is at co-design stage, before finalisation of the funding commitment.
The trials are being closely monitored and evaluated to see which models work effectively for whānau.
The Ministry of Housing and Urban Development is responsible for the government's ongoing Progressive Home Ownership Fund. The Fund has a specific focus on better housing outcomes for Māori, Pasifika and whānau with children, and also includes a dedicated iwi and Māori pathway.  For more information on Progressive Home Ownership, visit the Ministry of Housing and Urban Development website.
Te Ara Mauwhare Summative Evaluation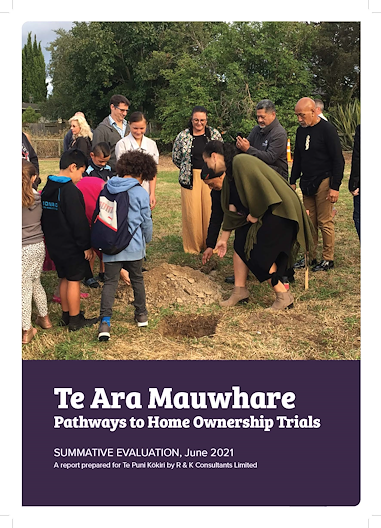 This report presents the findings of a summative evaluation of a set of trials under Te Ara Mauwhare – Pathways to Home Ownership. Te Ara Mauwhare identified and tested innovative progressive home ownership models to support very low, low, and median income whānau in moving toward home ownership. Interviews with whānau, iwi, Māori organisations and a review of Te Ara Mauwhare documentation informed the findings of this report.
Events and Updates
Latest events and updates for this section are listed below.
Three new papakāinga under construction in Ngāruawāhia

Young whānau writing their own narrative on home ownership

As a young person today, Aaliyah Armstrong says you don't have to listen too hard to hear a recurring narrative about the housing market.

Māori Housing in the spotlight at housing awards

The Te Puni Kōkiri Māori Housing Network was acknowledged at the recent Australasian Housing Institute Professional Excellence in Housing Awards where two Te Puni Kōkiri led initiatives won top awards.

Supporting Māori into home ownership

PĀNUI PĀPAHO | MEDIA STATEMENT

Around 30 whānau in the Manawatū region are a step closer to owning their own home," says Te Puni Kōkiri Chief Executive Michelle Hippolite.

 

Budget 2017: $27m for marae and Māori housing

The special significance of marae to Māori and communities is being acknowledged in this year's Budget with $10 million over four years allocated to help repair and restore whare and revitalise the paepae, building resilience of those charged with maintaining the protocols of marae, says Māori Development Minister Te Ururoa Flavell.