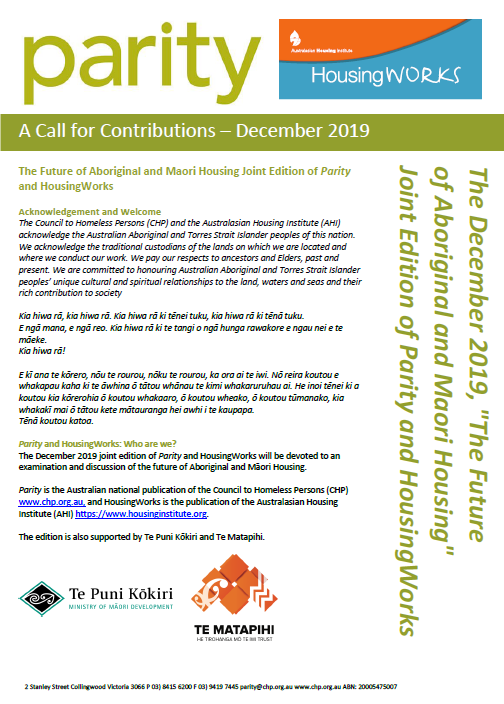 Submissions are being called for the December 2019 joint edition of Parity and HousingWorks will be devoted to an examination and discussion of the future of Aboriginal and Māori Housing.
Description
Submissions are being called for to contribute to the December 2019 joint edition of Parity and HousingWorks:
It would be of great assistance to the development and preparation of the edition for prospective contributors to send an expression of their interest in writing for this edition.
If you are interested in contributing please send an email (an EOI) to either the Parity editor Noel Murray: parity@chp.org.au or to Kelly Badewitz, the Executive Office of the Australasian Housing Institute, kelly.badewitz@housinginstitute.org briefly setting out the topic of your proposed contribution.
The deadline for expressions of interest is Friday October 4th.
NB (1): If you require assistance with putting together an EOI please contact the Parity Editor at parity@chp.org.au
NB (2): Even if you do not submit an EOI, you can still contribute to the edition.
FINAL SUBMISSION DEADLINE: All contributions must be submitted by COB Friday, November 15th.
Parity September Edition vol 29 - http://www.tpk.govt.nz/docs/tpk-parity-vol29-2019.pdf
This event is organised by PARITY and is sponsored by Te Puni Kōkiri.
Contacts
To get in touch with the event organiser:
---
Disclaimer: Whilst best endeavours have been made to ensure the accuracy of this information it was submitted to Te Puni Kōkiri by the event organiser and they are responsible for its accuracy.