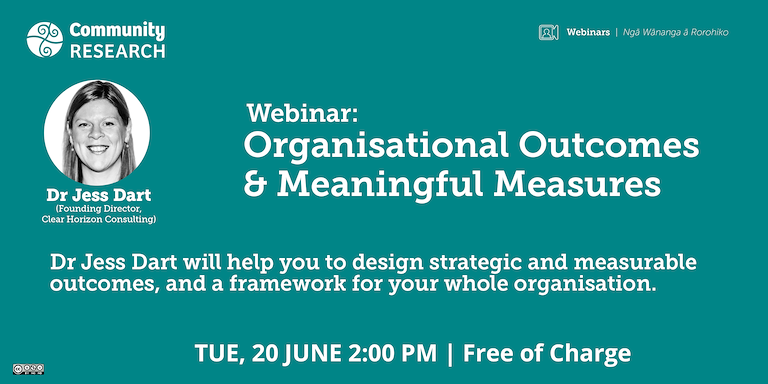 Do you manage multiple projects, with multiple plans, multiple outcomes and multiple measures, and do you seek one framework for all of your outcomes and measures?
Description
Do you need to be ready for evidence-based contracting?
Be outcomes ready! Jess Dart is an award-winning community sector evaluator. In this free, 75-minute webinar she will help you to design strategic and measurable outcomes, in a framework for your whole organization.
Hot topics include:
organisational theory of change lead indicators co-design process
Who is this webinar for?
This webinar is particularly (though not exclusively) for time-poor, cash-strapped NGO professionals who need to prepare for evidence-based contracting, and are under pressure to produce evidence of real results. This series is designed for community workers, managers, CEO and others who are new to Outcomes Frameworks and who are seeking to understand how to design and implement them. This resource is especially useful for Maori health providers and Whānau Ora collectives and providers.
This event is organised by Community Research.
Venue
Booking details
To book contact:
Contacts
To get in touch with the event organiser:
---
Disclaimer: Whilst best endeavours have been made to ensure the accuracy of this information it was submitted to Te Puni Kōkiri by the event organiser and they are responsible for its accuracy.