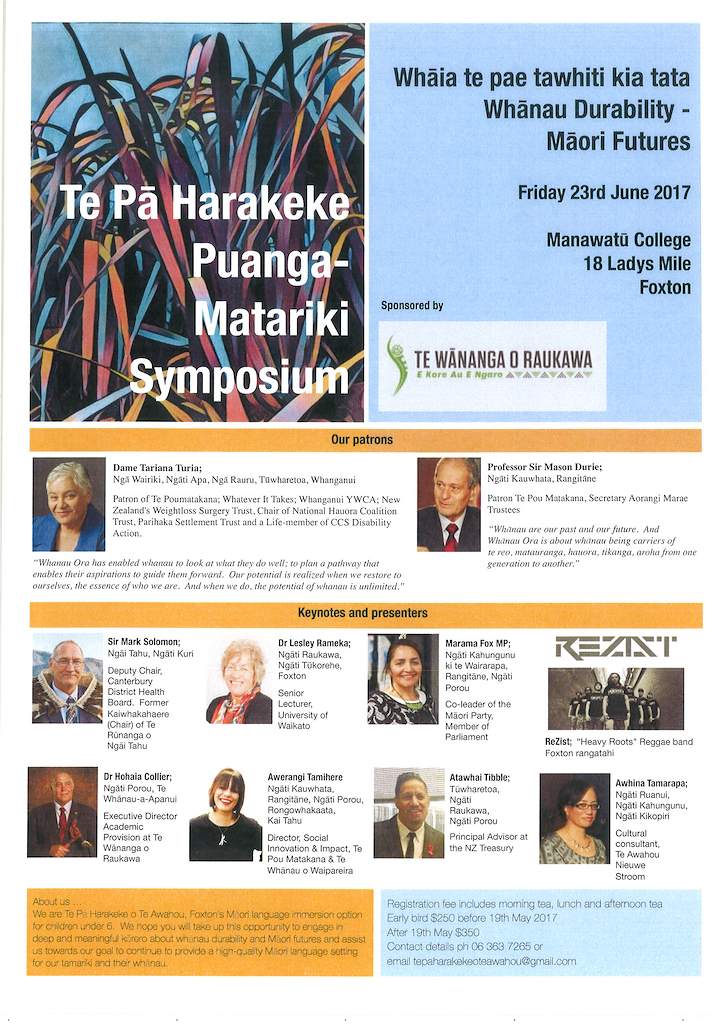 Whāia te pae tawhiti Whānau Druability - Māori Futures Friday 23rd June 2017 Manawatū College, Foxton
Description
Our Patrons are Dame Tariana Turia and Professor Sir Mason Durie.
Keynote speakers and presenters are * Sir Mark Solomon * Dr Lesley Rameka * Marama Fox * Dr Hohaia Collier * Awerangi Tamihere * Atawhai Tibble * Awhina Tamarapa
About Us We are Te Pā Harakeke o Te Awahou, Foxton's Māori language immersion option for children under 6. We hope you take this opportunity to engage in deep and meaningful kōrero about whānau durability and Māori futures and assist us towards our goal to continue to provide a high-quality Māori language setting for our tamariki and their whānau.
For further details and registration form please contact (06) 3637265 Tepaharakekeoteawahou@gmail.com
Early Bird Registration $250 before 19th May 2017 After 19th May registration is $350
This event is organised by Te Pa Harakeke o Te Awahou and is sponsored by Te Puni Kōkiri.
Venue
Manawatu College
18 Ladys Mile
Foxton
Booking details
To book contact:
The price is: $250 early registration $350
Contacts
To get in touch with the event organiser:
---
Disclaimer: Whilst best endeavours have been made to ensure the accuracy of this information it was submitted to Te Puni Kōkiri by the event organiser and they are responsible for its accuracy.