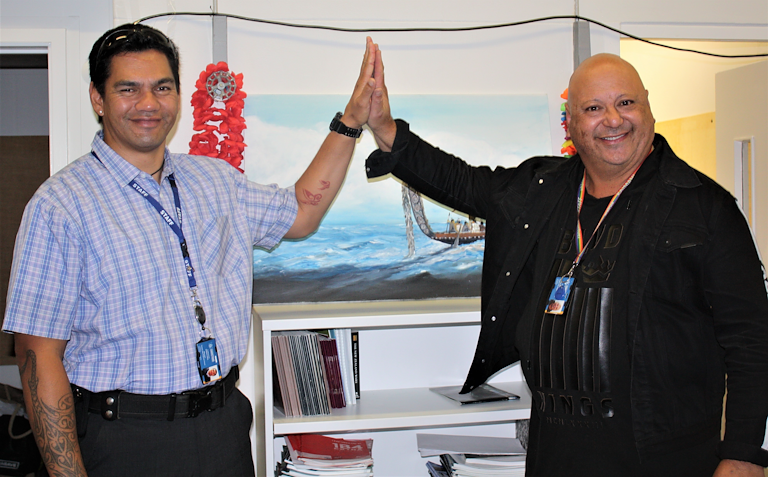 Department of Correction's Māori Pathway Managers Hone Fletcher and Lawrence Ereatara are responsible for supporting the use of tikanga Māori values in the prison, starting with 59 tāne inside the Te Ara Māori unit high security environment.
Hawke's Bay has been announced as the first place to trial the pilot Paiheretia te Muka Tāngata – Uniting the threads of whānau (Paiheretia) which aims to use a whānau centred approach to improve whānau wellbeing and reduce re-offending of tāne Māori under 30.
The cross-agency initiative by Te Puni Kōkiri, the Department of Corrections (Ara Poutama Aotearoa), and Ministry for Social Development supports the Government's Hōkai Rangi Strategy to drastically cut the number of Māori in prison.
Paiheretia is one of the Māori Pathways initiatives to reduce offending and imprisonment and acknowledges the importance of whānau in improving outcomes.
Ngāti Kahungunu are working in partnership with the Crown and is commissioning the delivery of the Kaiarataki Navigator Service. This service will provide support to whānau of Paihere, and work in tandem with the Hawke's Bay Regional Prison's Pathways team to improve the wellbeing and reunification of the whānau whanui.
Hone's eyes shine with conviction when he talks about why the Paiheretia kaupapa is important and this new approach is desperately needed.
"We are behind anything that uses a whānau centred approach to improve intergenerational wellbeing We are seeing some change, but we need this embedded in our cultural values."
"All the units here are very different, and we need to work out how we align the way we all treat our whānau and tāne. We need to interact differently rangatira to rangatira (person to person). That's what makes it safe for these tāne to open up after a lifetime of vulnerability," he says.
Lawrence says they get asked how they are going to treat gangs, but "we treat them as whānau."
"Tikanga and kawa take away gang colours and settle the behaviours. Paiheretia is not just about a series of programmes, it's about equipping them for the rest of their lives so they can make their own good decisions," he says.
The heart-warming amongst the heart-breaking
The Hawke's Bay prison is already embedding Te Ao Māori approaches, evident in the Te Ara Māori unit, which is part of the reason Hawke's Bay was chosen as one of the two pilot sites for Paiheretia.
One example is when the Nana of one of the tāne died, his fellow inmates rallied around him in a tikanga Māori way without any prompting.
Fifteen of them were all crammed in a small room when they found out. The group just lined up and delivered a highly emotive haka. There was a short speech by the young guy who had lost his Nana and staff brought them a guitar so they could waiata.
Hone says the tāne who was mourning his Nana was elevated because even though he couldn't call his whānau or be with them for this sad time, he got that manaaki.
"The whanaungatanga (connection) went through the roof - and this is the group that all staff, including myself, find challenging. It shows how tikanga and resilience can work in times of trauma," he says.
Plans that shape better futures
The corrections system was not working for Māori and Paiheretia te Muka Tangata is about supporting tāne and whānau in the way they need and have determined themselves.
Lawrence says the Whānau Manaaki Plans they implemented last year as part of the Department of Correction's Hōkai Rangi strategy are making a difference.
"Everything is usually prescribed by the current system but with their Whānau Manaaki plans we ask about what they need and for the first time in their prison life they are making their own decisions," he says.
Many of the manaaki plans have reoccurring themes.
"They want their kids back, they want support to get off alcohol and drugs, they want housing and employment - so many of them have nowhere to live. The thing overriding all of this is they want to be back in touch with their culture," Hone adds.
One tāne was looking at a 3-5-year prison term but before sentencing they had already made a plan with him. He got counselling and he was doing a Te Wānanga o Aotearoa course because he wanted to connect with his culture. His whānau wanted a plan for when he gets angry and some coping mechanisms. He also had experience as a barista, so the duo supported him to find work.
Because of his plan instead of a jail term he got home detention and now he's working and hasn't reoffended.
Humanising and healing
Māori make up half of New Zealand's prison population and Hone says prison is the last step and all the steps before that also need to be better.
"Once they are in the system, we know that a whānau centred approach needs to involve the tāne, his whānau and the wider community. The plan needs to work once they get home too," he says.
A 34-year-old tāne who spent 16 years in prison, mostly in maximum security, opened up to Hone after he spent time with him one on one.
Speaking about his abuse for the first time ever, he said he'd been afraid of being vulnerable because it made him unsafe and he was in a constant state of fear.
Hone said the tāne had full face moko, was in gangs, and had never had a safe external person to talk to so he can work through his issues.
"He was a child of the state, he'd been passed around whānau and had lots of abuse suffered in state care. He'd got into trouble, found gangs and ended up in prison.
"He told me, I have been in my darkest places, coldest places and weakest places and I am like moss in order to survive those places."
Hone said finally, at 34 years old, this tāne was in a different place and having a child was giving him a new positive outlook.
"I told him, well you are stepping into the sunshine now so it might be time to change your plant," he said smiling.