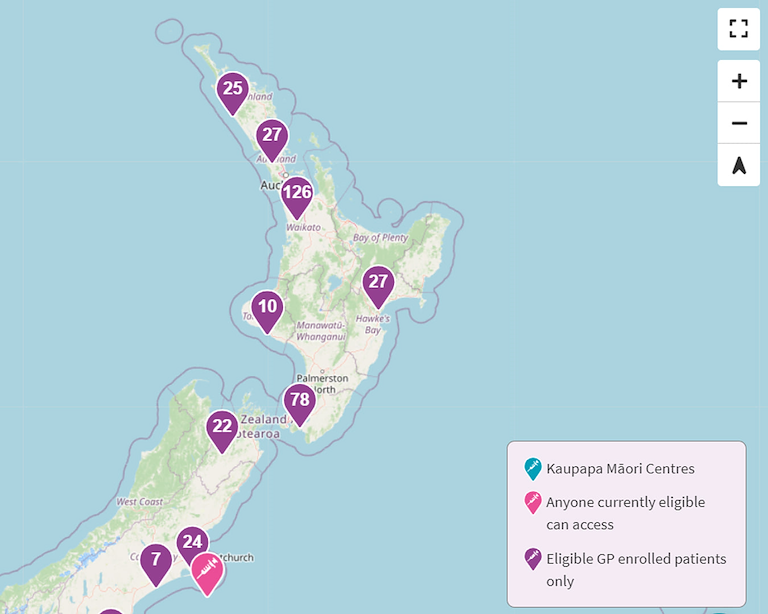 The tool is proving highly popular with more than 35,000 users visiting the Karawhiua website in the first 10 days, with more than 10,000 people clicking through to find information about specific clinics.
The new mapping tool means people can enter their location via the Karawhiua website and immediately see a map pinpointing their nearest registered vaccination centre, including Kaupapa Māori centres. It also allows visitors to choose between centres which are walk-ins and those that require bookings. The information available is updated daily.
The interactive map is especially useful for whānau who aren't currently enrolled with a health centre or don't have data on their mobile devices.
While there are still some additional features to add on to the mapping tool, a new partnership between Healthpoint, Te Hiringa Hauora – Health Promotion Agency and Te Puni Kōkiri is ensuring any glitches or required updates get made quickly.
The mapping tool is an important part of the Karawhuia campaign that aims to provide whānau and Māori communities with trusted and relatable information about the COVID-19 vaccine so they can make an informed choice about getting vaccinated.
Getting the COVID-19 vaccine
To make an individual booking online, head to the Book My Vaccine website.
To make a whānau booking, freephone the COVID Vaccination Healthline on 0800 28 29 26.
To find your nearest vaccination clinic, including walk-in clinics, use the mapping tool on the Karawhiua website.