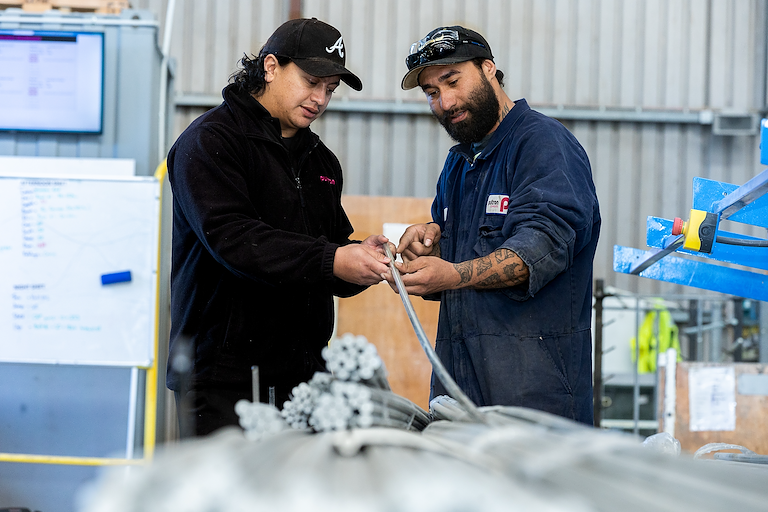 The company's high performance, fibre reinforced polymer products, are exported round the world. The company uses advanced R&D and technology to develop and manufacture diverse products, such as snowmobiles, floating marinas, self-drilling rock bolts and trampolines.  
Human Resources manager Anna Holdsworth says expansion has been rapid over the past three years and the success did not come without growing pains. "When our projects and workforce started to ramp up, our HR issues began to increase."
Anna believes the Cadetships support from Te Puni Kōkiri to help invest in its leaders and employees came at a crucial time for Pultron's workforce, half of which is Māori.
"It really was a game changer. In the past 12 months we've grown significantly by 33 per cent. If we hadn't put our Māori leaders through all that amazing training, before COVID happened, our internal systems may have collapsed.
"With the right leadership capability in place, they knew how to step up quickly and deal with legal and employment issues, improve our processes and the culture of the organisation.  Cadetships have definitely had a positive impact on our bottom line."
Since 2018, two intakes of Pultron employees have been through a structured nine-month career development Cadetship programme to build leadership and management skills and to progress entry-level machine operators to become engineers.
John Harvey (Ngāti Porou), who joined Pultron 11 years ago as a machine operator is one of those cadets who is becoming a qualified engineer. 
John had always wanted to create a better opportunity for himself and his whānau but was hesitant at first. "When I was 14, my Dad passed away, so I left school early to help my Mum. But I decided I really needed to get a qualification to provide long-term stability for my wife and children."
John is now in his third year of study and appreciates the mentoring help he gets from other engineers at his job.
Ben McClutchie (Ngāti Porou), who has been with Pultron for six years, was a new team leader when he became a cadet. "I'm always keen to improve my skillset and was interested in people management."
Ben has since completed courses and workshops in supervision, communication and lean manufacturing. He immediately put into action what he learned and as a result is more confident in his job. 
To find out more about Cadetships contact your local Te Puni Kōkiri office.