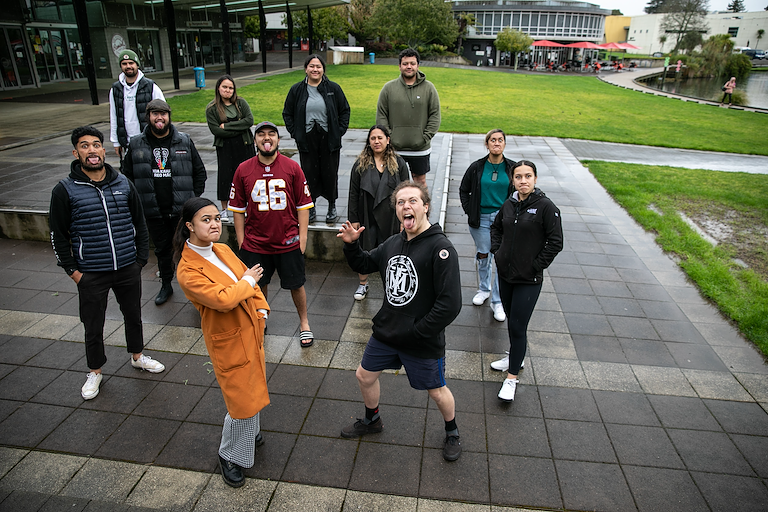 The event marking Kīngitanga Day and aimed at raising COVID-19 vaccination rates among Māori and Pacific whānau attracted more than 150 students.
Maioha Panapa who is co-leading a national rangatahi Māori campaign to encourage more rangatahi Māori to get vaccinated, says those who were a little unsure about getting vaccinated came with their whānau and friends.
"It was nice to see that there are young people out there encouraging their mates to come along and making it more comfortable for them by being their support crew," Maioha says.
"One thing I want whānau to think about is making a day of getting vaccinated. It doesn't have to be a by yourself thing, if you have a support crew to back you up bring them along."
As a graduate of Waikato, Maioha was proud that they were the first university in Aotearoa to offer campus vaccinations.
A collaboration between kaupapa Māori health provider Ngā Miro Health Centre, K'aute Pasifika, the Waikato District Health Board and the University, the event was open to all staff, students and the wider community.
The Deputy Vice-Chancellor Māori, Dr Sarah-Jane Tiakiwai, praised the vaccine providers for how well the day went.
"They ensured our community were welcomed and well looked after through the vaccination process. We were grateful for their support in giving us this opportunity."
Maioha and a national network of rangatahi creatives called Ngāti Rangatahi are launching their campaign this Saturday at a mass vax event at the Hopuhopu Sports Ground. The Ngāti Rangatahi campaign is supported by the Karawhiua campaign. Waikato-Tainui has sponsored some generous prizes for the mass vax event including a whānau trip to Rarotonga and a barbecue for marae.