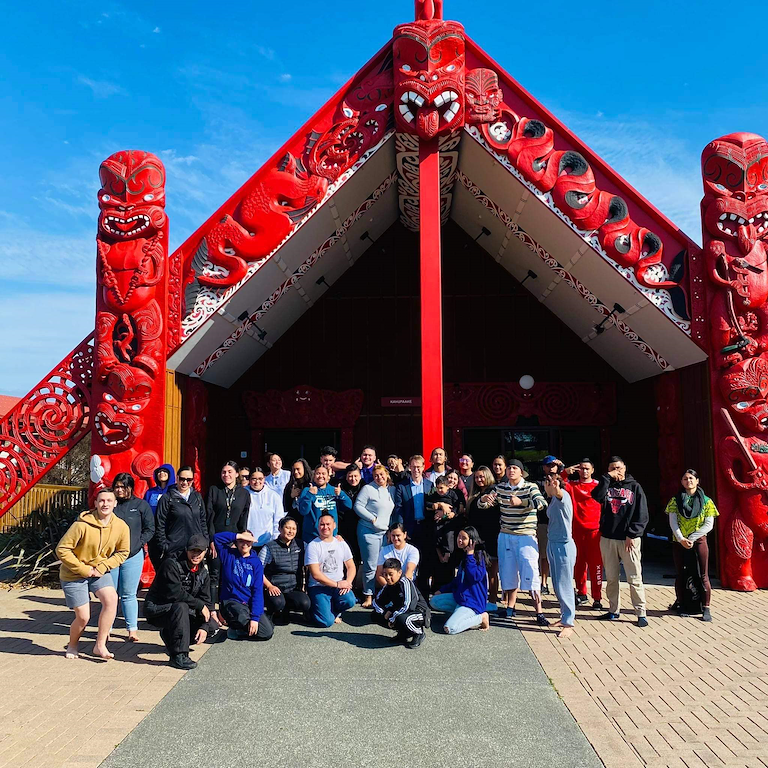 Mā Te Huruhuru was supported by Te Puni Kōkiri to deliver a three-tiered programme co-designed with taitamariki, for taitamariki to promote the benefits of the COVID-19 vaccine.
Kaiwhakahaere Matua, Māhera Maihi (Ngāpuhi, Ngāti Whātua) knows that taitamariki Māori are less likely to get vaccinated, so she knew she had to bring them together to create awareness and recreate the messaging around COVID safety and the vaccine.
"We wanted to give our taitamariki the opportunity to learn as much as possible about the vaccine so that they can make a better-informed decision," said Māhera.
The first part of the programme was to bring taitamariki together to wānanga and learn about COVID-19 and the vaccine. Over five consecutive weekends, more than 150 young people attended the programme that was hosted at various marae throughout Tāmaki Makaurau.
"At the wānanga, we asked what our taitamariki wanted to do and based on their feedback we incorporated cultural connection through mau rākau, kapa haka, whakamoemiti as well as hosting the wānanga in places where they feel safe and comfortable – at marae."
Taitamariki also wanted to learn from trusted experts, so, Mā Te Huruhuru brought in Māori health professionals such as Dr Maia Brewerton and Dr Anthony Jordan, the only two Māori immunologists in Aotearoa. They also had the opportunity to learn about the vaccine from Health Director-General, Dr Ashley Bloomfield.
"Trust is a big thing for our taitamariki. Over the five weekends, our kids were able to forge trusted relationships with Mā Te Huruhuru, Doctors, health experts and the other guests who volunteered their time to attend."
Māhera noticed that the same taitamariki were coming back every weekend. She said because of this, they were able to track real life changes to their perspectives on the COVID-19 vaccine.
"At the start of the programme only three of our kids wanted to get the vaccine and by the end of it, 27 of us went in to get vaccinated."
The second part of the programme was dedicated to a music album composed and recorded by taitamariki. Māhera says, "the album will include 10 songs in Māori and English to promote positive and uplifting messages."
Upon the request of the taitamariki, Mā Te Huruhuru also brought in local musicians, slam poets and members of Ngā Tūmanako to help the taitamariki transform what they had learned into a music album.
"We're now planning a concert for the third and final part of the programme. We'll be promoting healthy messaging around COVID and the vaccine, as well as launching the album our taitamariki have produced through live performances of their waiata."
Māhera believes that creating spaces for taitamariki to learn about key issues such as the COVID vaccine is imperative. "We need to educate our young people because they are our future. If they don't know enough information to make informed decisions, then we are not doing the most to protect our whakapapa."
Photo caption: Taitamariki from Mā Te Huruhuru attending wānanga at Te Manukanuka o Hoturoa Marae.