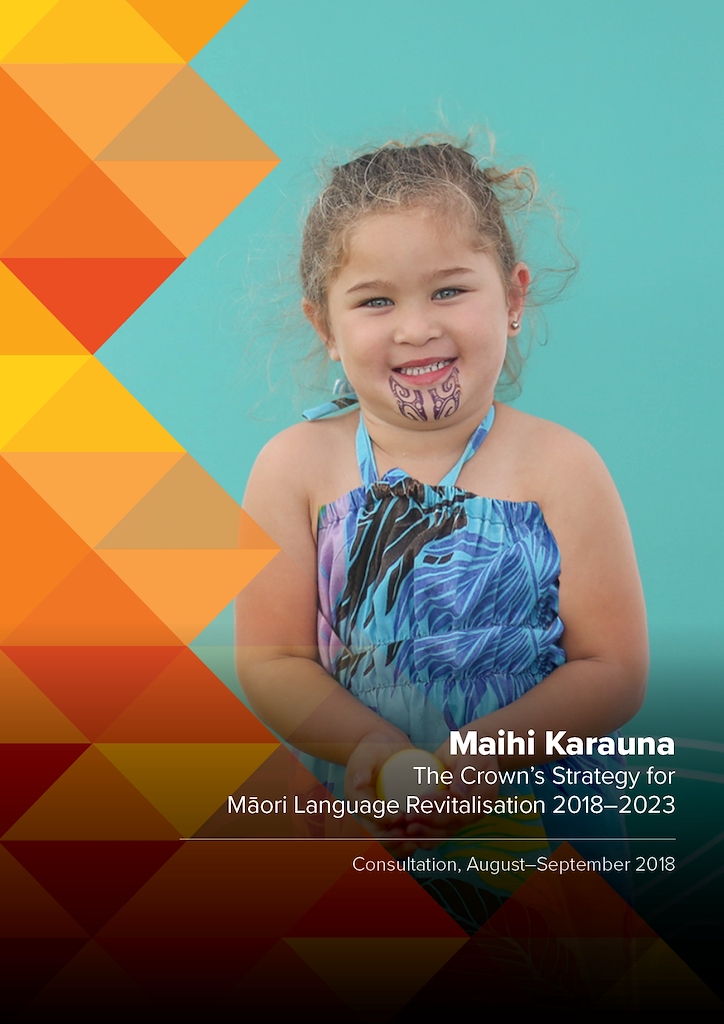 The Government recognises the importance of te reo Māori as a taonga and the responsibility it has to protect the status of the language.  
The draft Maihi Karauna sets out the Crown's vision for te reo Māori in the future. It outlines what the Crown will do to support a strong, healthy, thriving Māori language in New Zealand; Kia māhorahora te reo - everywhere, every way, for everyone, every day. 
It also harnesses the wave of public support for te reo Māori across Aotearoa and lays out ways to maintain and grow that momentum long into the future.
Have your say
People are encouraged to give their feedback on the draft strategy from 3 August to 30 September 2018. Make your submission and download the strategy at tpk.nz/maihikarauna.
The draft Maihi Karauna lays out the Crown's responsibilities to revitalise te reo Māori and sets clear goals to achieve by 2040;
Aotearoa New Zealand values te reo Māori as a key element of national identity.
one million New Zealanders can speak at least basic te reo Māori.
150,000 Māori speak te reo Māori as a primary language.
The strategy comes under the Te Ture mō te Reo Māori 2016 which provided a new opportunity to revision the Crown's effort towards for Māori language revitalisation.
Maihi Karauna and Maihi Māori
The Maihi Karauna complements the Maihi Māori, the revitalisation strategy for language in homes and communities, led by Te Mātāwai. This is the first time the Crown and Māori have entered into an active, planned partnership for revitalisation. The relationship maximises the potential to secure a strong, enduring future for the language among whānau, and wider Aotearoa New Zealand.
Both strategies, the Maihi Karauna and Maihi Māori, are named after the maihi (bargeboards) on each side of a whare. They are likened to the outstretched arms of the whare tīpuna. Karauna is the Māori word for Crown.
A view to the future
The draft Maihi Karauna is a response to increasing support and demand for quality te reo Māori in New Zealand society. It also holds a view to advancing technology that is rapidly creating new opportunities and landscapes for innovation. 
The Crown aims to deliver smart solutions that will not only promote quality language but encourage and support the places where that language can flourish every day and long into the future.
The draft Maihi Karauna has been developed by Te Puni Kōkiri, Te Taura Whiri i te reo Māori, Te Māngai Pāhō, the Māori Television Service, Ministry of Education, Department of Internal Affairs and Manatū Taonga, the Ministry for Culture and Heritage. 
The public consultation runs from 3 August to 30 September 2018.