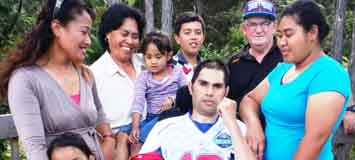 A Pacific aiga (family) unable to care for their severely disabled adult son now have a pathway to support his return home thanks to Whānau Ora.
In 2012, not long after celebrating his 25th birthday, Meki Ta'ase suffered a traumatic brain injury while sparring at his Auckland gym and is unable to walk or talk as a result of a serious and complex disability. For his mother, Susi, who visited him every day at a rehabilitation centre, the experience was made even worse by their separation.
"It's hard because I want Meki to come home but we don't have an accessible house with the space and equipment that he needs," Susi says. "I know that I myself and my family could care for my son better than anyone because we know him so well."
With the support of What Ever It Takes Home-Based Rehabilitation Services, Meki's family developed a whānau plan with short, medium and long-term goals to facilitate his eventual homecoming.
A whānau support team has been recruited to cope with the special care that he requires and a major achievement has been his relocation from the rehabilitation centre to Waimarie Whare. The 'House of Hope' is a partnership between What Ever It Takes and Housing New Zealand which allow whānau to be fully involved in the care, support and rehabilitation of their loved one.
Long-term, the aim is to secure an appropriate, accessible Housing New Zealand home for the entire family.
"The doctors said he should have died but I prayed for a miracle – and I had my prayers answered because Meki survived." www.whateverittakes.co.nz
"My Whānau Ora dream is to have my son home but until he can return, I want him to be getting the best care possible."
Susi Ta'ase Meki Ta'ase surrounded by his extended aiga at Waimarie Whare.